20.05.2018
Here are 2 Weekend Getaways around Kota Kinabalu and Kuching You Can't Miss!
Did you hear that WAHDAH has expanded their operation coverage in two new cities? Yes, we have expand our coverage in Kuching and Kota Kinabalu City. Book your car now and spend your weekends relaxing at any of these two cities!
3 destinations you must explore from Kuching city :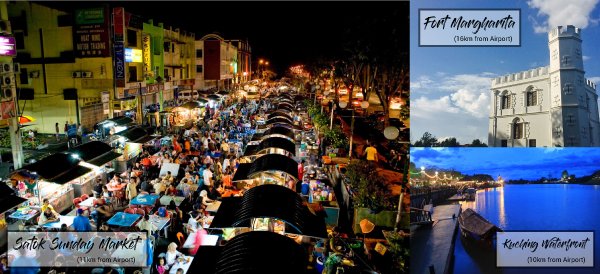 Kuching Waterfront
Kuching Waterfront, which lines the south bank of Sarawak River, is the place to sample the city's cosmopolitan vibes. During the daytime, it offers scenic views of the Astana, Fort Margherita and the Malay kampungs across the river; but night-time is when it really comes alive! It seems like half of the city is out meeting friends, watching a show, or just shooting the breeze. For something different, why not try jetty-hopping along the river on the local Penambang boats, and savour the different sights, sounds (and delicacies!) between the two riverbanks.
Distance from Kuching Airport: 10KM

Satok Sunday Market
The Satok Sunday Market that used to be on Satok Road (Jalan Satok) has been relocated to Medan Niaga Satok. This weekly open-air market operates on Saturday and Sunday afternoon. The stalls provide a huge variety of local offerings, from snacks, regional delicacies, produce, meat, fish, eggs, plants, and pets to clothing, accessories, newspapers, toys, fashion items, local handicraft items and souvenirs.
Some of the sellers are natives from rural areas of Sarawak. They travel from their villages in the rainforest to the city every Saturday to sell their produce at the weekend market. Most of them camp overnight at the market on Saturday and continue selling the following day. The tribal sellers can be easily identified because they usually have a variety of interesting jungle produce spread out on the ground, whereas the urban sellers have tables to display their items.
Distance from Kuching Airport : 11KM

Fort Margherita
Fort Margherita was built in 1879, while the island was under British rule, in order to protect the city from attacks. It was named after Charles Brooke's wife, Ranee Margaret. It stands on the other side of the Sarawak River and can be seen from the Kuching Waterfront. The original structure—together with its cannons, cannon balls, guns, prisoners' cells and more—still remains. The old fort has been converted to a Police Museum that has a display of weapons, opium dens and different forms of criminal punishment.
Distance from Kuching Airport : 16KM

3 destinations you must explore from Kota Kinabalu city :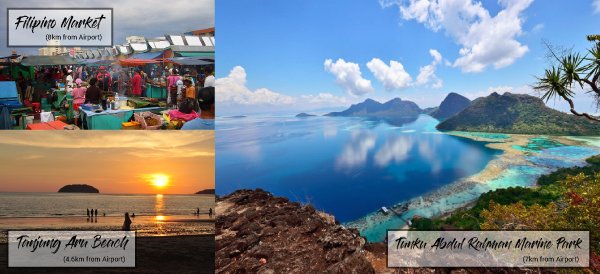 Tunku Abdul Rahman Marine Park
Tunku Abdul Rahman Marine Park in Kota Kinabalu is the second national park in Sabah. It was opened in 1974 and is named after Tunku Abdul Rahman, the first Prime Minister of Malaysia. The Marine Park is made up of five islands, namely the Gaya, Manukan, the Sulug, the Sapi and the Mamutik. The names of these islands have symbolic and historic significance, related to their early discoveries. It is popular destination for the day-trippers because all these 5 islands are only a short boat ride away from Kota Kinabalu. The marine park often remains crowded, especially during the weekends. The Tunku Abdul Rahman Marine Park in Kota Kinabalu is also a favorite destination for the water adventure loves as diving and snorkeling are the common water activities here. Within the marine park, there are a few resorts for the visitors to stay there for a few days. Over 300,000 tourists are recorded every year at the marine park.
Distance from Kota Kinabalu Airport : 7KM

Tanjung Aru
Tanjung Aru is a sub-district of Kota Kinabalu in Sabah, of Malaysia. Its main feature is its beach called Tanjung Aru Beach which stretches to over 2 kilometres long along with new skyscrapers. It also has its own township called Tanjung Aru Town. Other notable features include the Perdana Park, the Kinabalu Golf Club, the Kinabalu Yacht Club, and the Tanjung Aru railway station of Sabah State Railway.
Distance from Kota Kinabalu Airport : 4.6KM

Filipino Market
The Filipino market has a huge area space and the locals more commonly recognize it as Pasar Besar (Central Market), Pasar Filipino (fruits/fish/handicraft/vegetable market) and Pasar Ikan (Fish Market). The Filipino Market is one of the most famous destinations of Kota Kinabalu and it is widely known for being the best place to get souvenirs. The Filipino Market Kota Kinabalu is occupied with hundreds of tiny stores. You will almost feel like you are playing a game of treasure hunt as you find your way through the clustered walkways that are filled with hordes of people. The Filipino Night Market is so beautiful, cultural and colorful that your heart will fall out on every little object that you lay eyes on. This detailed guide on Filipino Market Kota Kinabalu is for the benefit of both locals and foreigners.
Distance from Kota Kinabalu Airport : 8KM

Still, wondering what's next for your adventure in Malaysia & Singapore? Follow us on Telegram for the latest updates
https://t.me/wahdahmy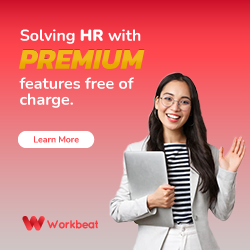 Categories
---
Recent posts
---